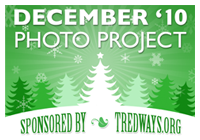 + + + +
Merry Christmas!
It's been so nice to celebrate Christmas with all of my extended family--including my sister and her husband. We haven't been all together for Christmas since 2007. It's been absolutely wonderful.
Instead of buying gifts for each other, my sibs and I had a nice dinner out on the 23rd. What a lovely evening. I loved it. (photo above)
Pumpkin and Superboy have been having a ball with grandparents, aunts, uncles, and cousins. Tonight, we played a dance game on Uncle Joe's xbox Kinect until LATE-thirty. 
Izzy (the puppy) has been a great little traveler. Thank goodness for a kennel that she loves. She seems to be very secure when she can sleep in "the same place" every night...no matter where we are.
+ + + +
Ellie and I are taking a little blog break and will be back with more posts sometime in the new year.
Happy 2011!